Table of Content
Know About the Best Celebrity Look Alike Apps Currently Available Online

During the last few years, many new entertainment apps have flooded the marketplace of Play Store and App Store. These apps have download numbers in thousands, meaning that people are loving these apps due to their variety of features. Among many notable names, celebrity look alike apps are getting more attention from the people. Using these apps, people get to know which celebrity they look like and often search for their life partners on the best dating apps in Dubai. Although these celebrity suggestions are not exactly accurate, but they look good to pass some fun time. They are quite easy to use, allowing you to just input the picture and get look alike results in minutes.
These apps generally use facial recognition technology to match the dynamics of your face with the known celebrities. Once finding the correct match, the app shows results in an organized manner. Sometimes, you might experience edits in your own picture, as these modifications are done to correctly match your face with the results of popular celebrities. These people can relate from different industries, ranging from entertainment to sports industry and more others.
Generally, these apps are built using advanced artificial intelligence technology. So, if you are looking to hire a software development company that can develop this type of app, make sure to first check their proficiency in the AI department. Meanwhile, if you are looking to develop this app by yourself, try to first get some inspiration from the known celebrity look alike apps. You can find plenty of them available online, offering different types of features to find exact suggestions.
In this blog, we will talk about some of the best celebrity look alike apps currently available on different marketplaces. So, if you don't know which mobile app should be downloaded to find a correct match of your doppelganger celebrity, read this article in detail. We will first start from the basics understanding why these celebrity look alike apps are gaining so much popularity in the market. Let's start with this below.
Rising Popularity Of Celebrity Look Alike Apps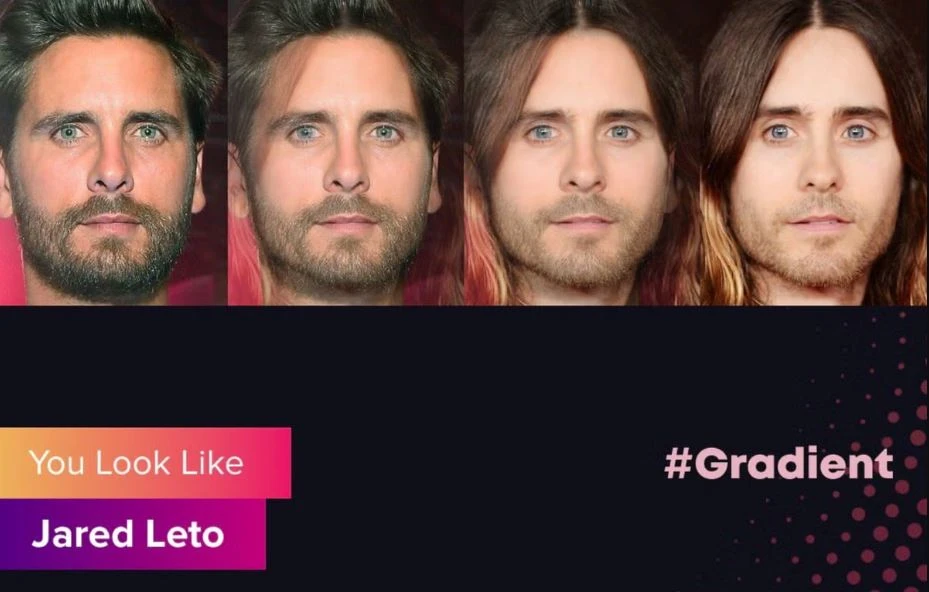 Taking a quick look at the different apps available on Play Store or App Store, you will notice that most of them are related to the entertainment genre. This means that they are not commercial apps built by any business conglomerate. They are basically built for the general audience who want to pass some fun time using some interactive applications. To provide that, entertainment apps comes up with plethora of features that makes them highly interactive for the users.
Now, looking at the list of top entertainment apps, you will find plenty of names related to celebrity look alike apps. The reason behind their popularity is that they allow people to know which celebrity they look like. It is quite a known fact that many of us often compare ourselves with different superstars. Generally, we anticipate the names of top Hollywood actors or sports personalities in this imagination. Now, this instinctive thought can be converted to reality by looking at these innovative celebrity look alike apps.
This is the core reason why these apps are increasingly becoming popular. They are absolutely free to use, meaning that anyone can find his/her doppelganger celebrity by using these apps. They are available on both app marketplaces i.e. Play Store and App Store. So, people having Android and iOS phones can easily download and use them whenever they want.
Best Celebrity Look Alike Apps To Try Out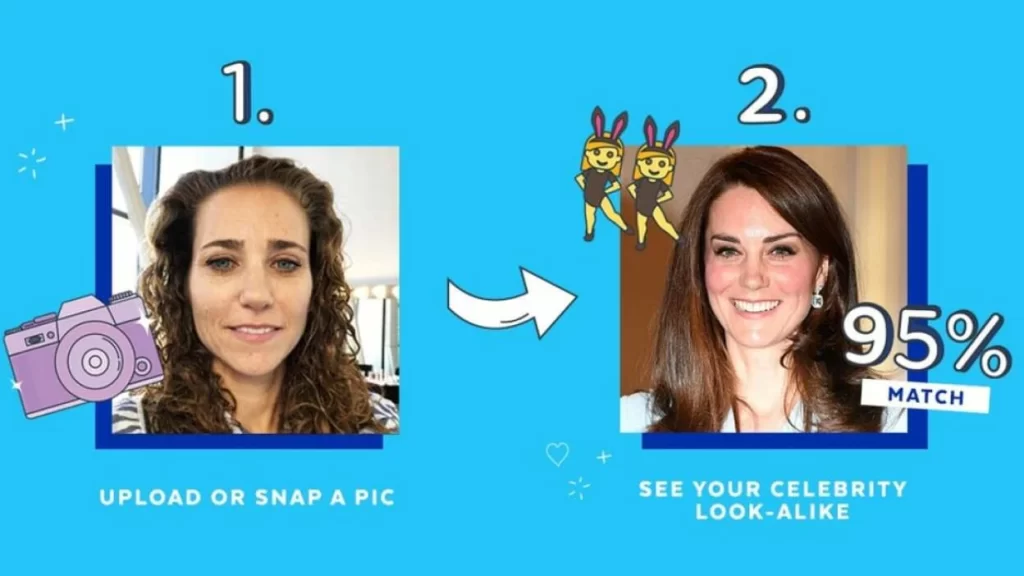 If you are also wondering which celebrity do you look like, try some of the best facial image recognition apps available online. These mobile apps are pretty good in terms of finding people that have got similar facial looks like yours. Though the results will not be dead accurate, but still you will find some sort of similarities in them.
So, without wasting much time, lets take a look at the list of popular celebrity look alike apps currently available online.  
Gradient
When it comes to find out which celebrity look exactly like you, there is no better option than using Gradient app. It is considered one of the best apps available online that provides exact results matching with your facial dynamics. The app was launched by a startup in Ukraine having the company with the same name. After getting hit locally, the app steadily started to get recognition in the international market, and then became popular all around. Initially, it was just using simple features to find face matching results. However, later on, the developers integrated machine learning processes to further amplify the results with accurate measures.
Today, the app has got download number in thousands, meaning that it has become highly popular in the market. Besides fetching celebrity look alike results, the app has also got a unique feature that allows you to change the color of your face pictures. The app is currently available with paid monthly subscription, however, you can first use it with a free 3-day trial to get better understanding.
Star By Face
Next up, we have got the name of Star By Face in the list of top celebrity look alike apps. This is certainly a great application that lets you know which superstar has the same facial appearance like yours. The app gives you two options to upload photos for facial recognition. First method refers to the general way of uploading photos, while the second method gives you the leverage to upload photo using any external URL. In this way, you can take photos from any site where your personal photos are stored. This could be done through social media sites like Facebook, Twitter (X), Instagram and more others.
Besides displaying look alike celebrities, the app also lets you compare two people that are similar to each other. In this way, you can see two different celebrities having similar type of looks through the app. Meanwhile, if you don't want to use mobile, you can also access this app through the normal desktop browsers. The website address is also the same, hence you'll not face any trouble finding it on the internet.
Celebs
Another facial recognition app that provides quality results is Celebs. It works similarly like other celebrity look alike apps, in fact is better in some cases. It is completely free to use, meaning that anyone can download it from Play Store or App Store for free. However, the application contain some in-app purchases, but they are optional as well. Talking about accuracy, the results provided by Celebs are quite accurate, meaning that you will always find to-the-point celebrity suggestions that matches perfectly with your facial appearance.
Using the powerful algorithms of machine learning, Celebs provide exact celebrity suggestions having good resemblance with your face. From kids to adults, the app has got stunning proficiency to read visual data, and it gets better and better with each update. This shows that the team behind the app is continuously working to improve the results, so that users can always find exact suggestions.
Looky
Next up, we have got Looky which is another top name in the list of best celebrity look alike apps available online. This app is very easy to use, allowing you to just upload photos and get suggestions in minutes. You can also take selfies to upload picture in this app, as the front camera feature is also enabled. However, this can lead to inaccurate results, because many people do not have latest smartphones offering great front camera results. These apps generally require high quality pictures, so it is best recommended to upload them in a correct manner.
The app is available for both Android and iOS users, meaning that it supports majority of the smartphones used by the masses. The size of the application is also very light, hence you can easily use it without clearing up much space in the phone. The app also gives you the option to share photo results on social media, so that you can tell freely to everyone about your doppelganger celebrity.
Y Star
If you want to analyze which celebrity shares same resemblance with your facial structure, download and use the creative Y Star face recognition app. The app provides results within seconds, and they are pretty accurate too. Using this app is also very simple, as you just have to click and upload a selfie using your phone's front camera. This process generally take seconds, meaning that the photo execution method of the application is very fast. However, if your internet speed is slow, then you could face some problem while finding the results.
Just like augmented reality apps featuring image recognition, Y Star can also be found on both marketplaces i.e. Play Store and App Store. That is what makes them a good fun app for both Android and iOS users. They provide multiple suggestions once the photo is uploaded, hence you can see different celebrities that have got same facial expression like yours.
Facer
Another application that provides quality celebrity look alike results is Facer. This app is relatively new, but it has started to gain attention in the market. It provides quality suggestions that allows you to find correct matches according to your face dynamics. The app uses powerful AI technology to understand given face pictures. That is what makes the app different from normal recognition apps. It does not provide results on random basis, but after doing competitive research using in-depth algorithms of artificial intelligence. The results obtained through the app offers exact resemblance, which is why people simple love this app.
Talking about the charges, the app does not demands any fee. It is available on both Play Store and App Store for free. This makes the application handy for everyone, as most of the people are not willing to pay for any app. Besides that, you can also share images from the app to other social media platforms. This feature comes pre-integrated in the application, hence it is a good pick to find and share your doppelganger celebrity.
My Replica
My Replica is a mobile app that uses artificial intelligence to find your celebrity look-alike. The app works by taking a photo of your face and comparing it to a database of celebrity faces. It then provides you with a list of the celebrities you most closely resemble, along with a similarity percentage. This feature lets you know how much your face resembles with any particular celebrity. It is not necessary that you will always achieve hundred percent resemblance. Sometimes, you could only get fifty to sixty percent resemblance, but that is also enough to make you look like any celebrity.
My Replica is available for iOS and Android devices. It is a free app, but there are in-app purchases available for additional features. The app has been praised for its accuracy and ease of use. However, some users have reported that the app is not always accurate, and it sometimes crashes midway during the analysis process. These bugs are not big, but they are still considered a major issue that hinders the app experience of the users.
Twinlets App
Last but not the least, we have got Twinlets app in the list which is also considered a great option to find your celebrity doppelganger. The interface of the application looks generic, but it offers quality results based on your given pictures. It uses in-depth analysis to find correct matches, which is why its accuracy is pretty good. Whether your face looks like any movie star or sports celebrity, the app will give you suggestions accurately every time.
This is one of those apps that does not require any registration or login at the start. This feature is pretty common in other apps, but Twinlets doesn't require any registration at all. It is indeed a perfect face matching application that allows you to get started quickly without engaging into any hassle.
Frequently Asked Questions
Why celebrity look alike apps are becoming popular?
The reason why celebrity look alike apps are becoming popular is that they let you know about the celebrities that have got similar face structure like yours. Though these results are not exactly accurate, but they are still very good.
Which is the best celebrity look alike app currently available online?
There are many celebrity look alike apps currently available online. It includes Celebs, Gradient, Star by Face, My Replica and more others.
Is Star by Face a safe mobile app?
Many people often ask whether Star by Face is a safe application or not. Well, it is definitely safe because your uploaded photos are instantly deleted from the app database once the results are provided in real-time.
Latest Apps Based Articles:
Final Words
That takes us to the end of this blog in which we have discussed some of the best celebrity look alike apps currently available online. These apps comes in very handy to know which celebrity do you really look like. Other useful apps include instant cash loan apps in UAE that can help you in difficult times. Hence these apps are pretty good to find such answers quickly. In this article, we have highlighted some of the top celebrity look alike apps available on different marketplaces. These apps are rated by the people based on their quality, as well as level of accurate suggestions provided for every search.
Meanwhile, if you are looking for a company that can help you to develop a mobile application, get in touch with us today. We will assist you to develop all types of mobile apps, rightly as per the needed requirements.