Table of Content
Know About the Best Augmented Reality Apps Currently Available Online

The rise of augmented reality has opened up new avenues of innovation for businesses. It has given them a way to showcase their services in a more interactive manner to the customers. If you have seen some of top rated augmented reality apps currently active in the market, you would have analyzed that they are built with an aim of providing convenience to the customers. Some of the apps like IKEA is a clear example of that, showcasing how digital interaction can be offered to the customers through an advanced AR app.
Today, businesses have got a good understanding about the need of incorporating latest technology. They know that the competition in the market is tough, and the only way to get an edge over rivals is by using latest technology in the core company's products. Due to this fact, they are ready to incorporate new technologies, and currently augmented reality looks to be the best option for them. It is a technology that takes digital experience of the customers to the next level. It can be incorporated in the mobile apps, but to do that, it is recommended to take services from a professional mobile app development company.
Currently, there are many apps available online using the technology of augmented reality. You can take a look at them to see how they work and what type of features are offered in them. This analysis will help to build your own AR app with perfection. In this blog, we will also take a look at some of the best augmented reality apps available on different app stores. This will give you a good overview about the trending apps that should be considered for inspiration or motivation.
Let us first start from the basics understanding the core definition of augmented reality below.
What is Augmented Reality?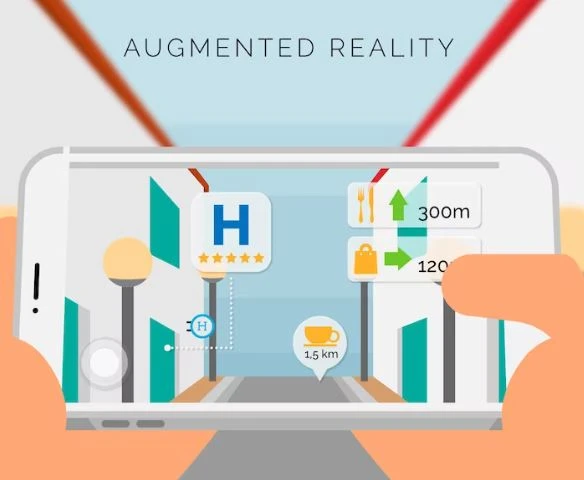 The process of showcasing real world experience in the digital machines is called augmented reality. It is a unique approach to illustrate real things live on different digital devices. This experience is blended with other digital assets shown on mobile or tablets. Combining them, you could see a whole new real world having different digital components in motion. This way, you can see an alternate reality that looks like your actual world, but has been occupied with different digital components.
To understand this concept, you need to first download any augmented reality app. You can go with different options available in the market like the mobile app of IKEA, Google Lens and more others. These apps are built on the concept of AR, in which they allow users to experience a new world around them occupied with different digital objects. These components could be anything like a digital furniture, car, house or any other stuff.
With the help of augmented reality, you can experience a new surrounding through the lens of your mobile camera. It could be customized by putting objects of your choice, or by modernizing the architecture around you. This way, you can experience the motion of different digital components in the real world seen perfectly through your mobile or tablet.
Difference Between Augmented Reality and Virtual Reality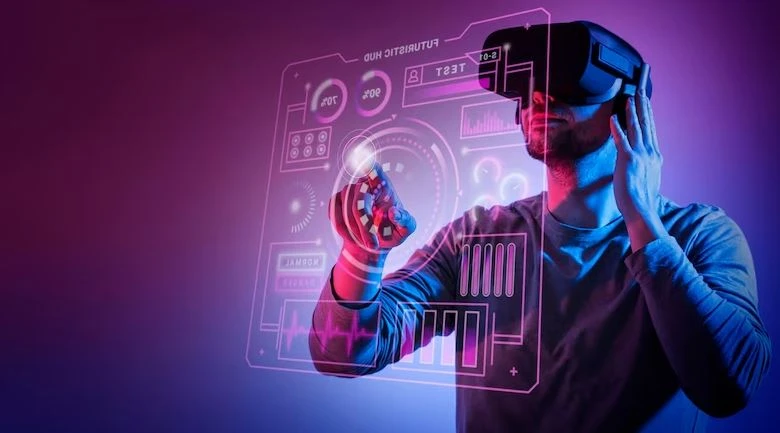 Many people think that augmented reality and virtual reality are similar. They do not understand the basic ideology of these two technologies. There are many differences between them, and they are not similar by any means. First of all, augmented reality blends precised digital data with the real world experience. It alters some part of the reality, allowing people to see a different visual perspective through the lens of a camera.
On the other hand, virtual reality helps you to explore reality even when you are not physically present at that place. This means that you can take a complete tour of Chicago by just sitting in any restaurant of Sydney. This can be done by developing an advanced mobile app using some of the best coding languages for app development. This app should support the methodology of virtual reality, as that holds the key to give people a resounding experience of VR perfectly.
Unlike augmented reality, VR does not allow you to control the environment that is being shown live on the screen. It is controlled by the system, and you can just only view it by getting a precised access. However, virtual reality gives you the leverage to see a complete fictional world in real motion-sensing manner. This means that if you are present in a virtual graphical world, you can experience all the things displayed inside it. This is one of key features of virtual reality that makes its experience entirely different from augmented reality.
Best Augmented Reality Apps in the Market
To develop an augmented reality app, you need to first understand the core working process of AR. Unfortunately, many people are unable to understand how does it work and what type of technologies are used in it to display augmented reality. This is where they need to first analyze the AR apps currently active in the market. It helps them to know how other apps are built and what type of features they are offering to the users.
In this article, we have listed some of the best augmented reality apps available online. It will be a good read for those individuals who want to know how these apps work. So, without wasting much time, lets take a look at the list given below.
IKEA Place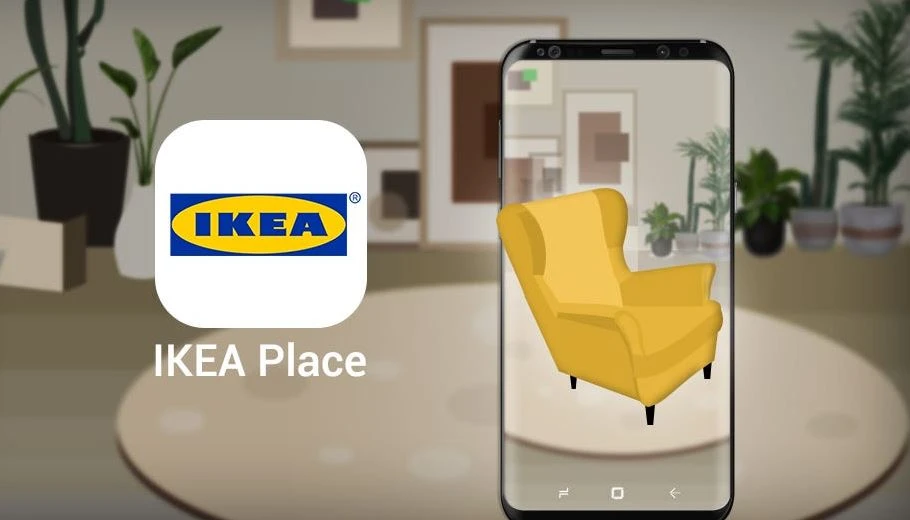 When it comes to rank augmented reality apps, the name of IKEA Place always comes first in the list. It is the official app of IKEA that allows you to experience augmented reality in full-scale. For starters, IKEA is the top name in the global furniture manufacturing industry, having footprint in all the major regions. The brand does not need any second introduction, as people know about its quality and reputation completely. Over the years, it has established itself as the top furniture manufacturer that offer endurance and reliability in all its products.
Though the conventional market supremacy is already on top, IKEA has now taken a new step to raise its dominance in the digital world as well. The latest mobile app of the brand 'IKEA Place' is offering digital shopping to the customers with a completely new experience. It has incorporated augmented reality with perfection, allowing users to see an alternate surrounding filled with different types of IKEA furniture. It helps people to see whether the chosen product fits into their place or not. Based on this, they make correct buying decisions without having any doubts or misconception in mind.
Shopify AR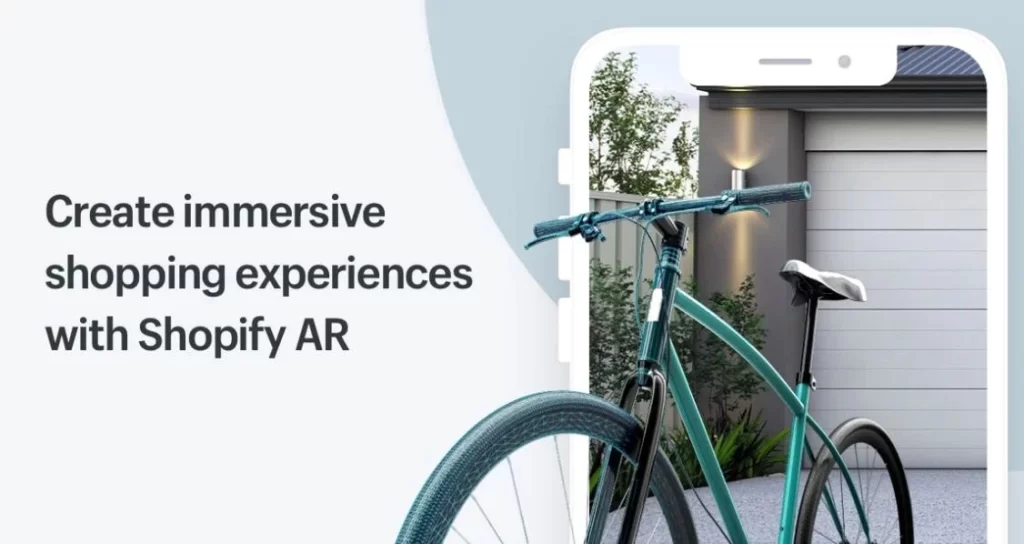 If you are managing a store on Shopify and want to give your customers a realistic experience of shopping, this is the feature you must need to know about. Shopify AR is a breath of fresh air for all the store owners who are using Shopify. It allows you to make 3D assets and videos of those products that are displayed on your store. The primary purpose of doing that is to provide customers a completive interactive view of the store. It allows them to see a proper 3D view to make better buying decisions about any product.
By using Shopify AR, you can provide a unique convenience to your customers to see how the products fits into their store, room, table or any other place. It is indeed a new method to show customers how interactive your digital store is. This app can be accessed by both Android and iOS users, hence it is a perfect pick for every person.
GIPHY World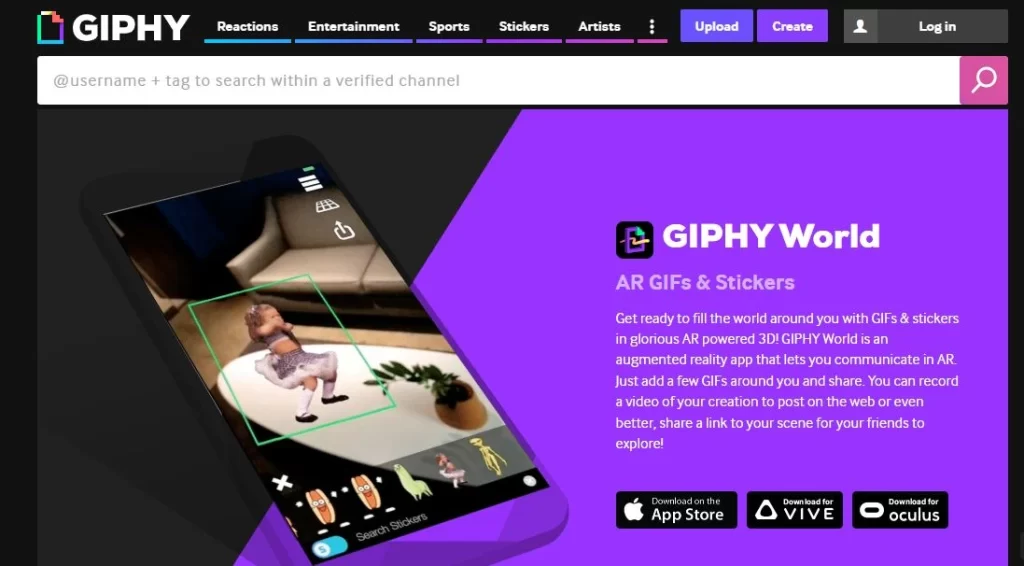 We all want to make our surrounding a bit colorful and lively in looks. People usually do it by customizing pictures through Photoshop, but that remains completely static. If you want to do this thing live, you need to know about GIPHY World. Just like AR Zone app, it is also a powerful application that allows you to see something extra with augmented reality. This includes different types of GIFs, sticker packs and more others. It can be said that this app offers a fancy touch to your AR videos and photos. It enhances their beauty, allowing you to showcase an attractive surrounding presence.
This app is best suited for those individuals who regularly like to create colorful social media content. It can help them to record or take photos creatively using a plethora of AR assets given in the app. This can work perfectly well to engage your audience, as people do like to see different types of interactive content regularly on social media.
Google Lens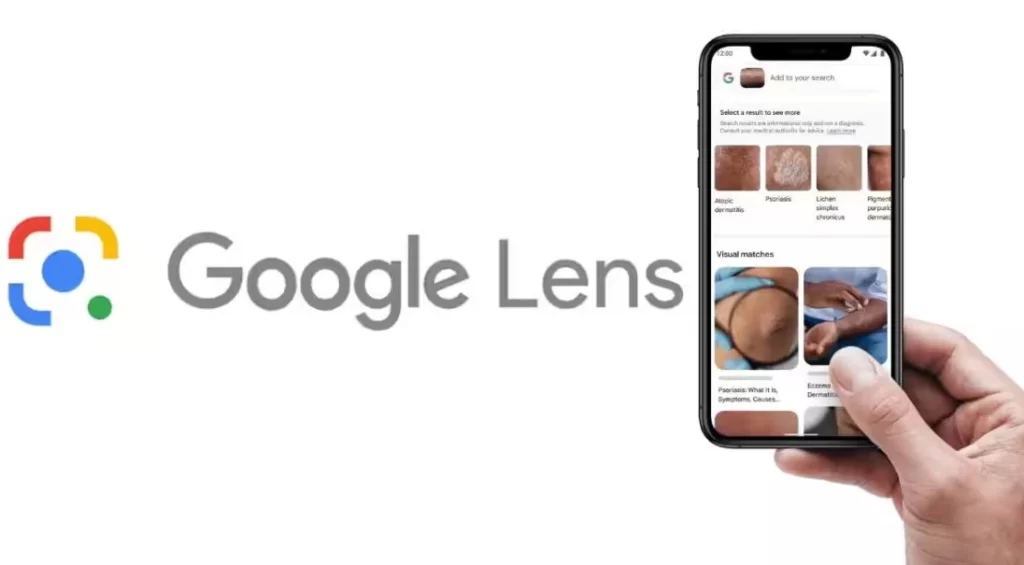 Google Lens is yet another a great app that provides tons of quality AR features. The primary purpose of this app is to enhance the search experience of the users. Basically, Google Lens allows you to find information about any object by just focusing it through the mobile camera. Once the AI technology interprets the visual of the image, you can get all the information related to it. That is how easily you can get information about any product from Google Lens. It is an advanced tool that can interpret any image and provide detailed data according to it.
Generally, when you want to search about anything, you type its name on the Google. This is a conventional process that takes a bit of time. However, by using Google Lens, this process can be streamlined. All you need to do is to just hold the mobile camera and aim it towards the required product. The app will automatically extract all the information related to it, including product name, manufacturer, pricing and more others.
Augment

Augment is an augmented reality platform that allows users to visualize 3D models in real time. This app is specifically targeted towards store owners, as they can use these 3D models to showcase products creatively. It can be said that the idea of Augment looks similar to that of Shopify AR. It focuses on the same idea of providing great AR experience to the users, which is why this app is also a great addition to the rising stack of ecommerce AR apps.
Speaking about the specific usage, businesses can use Augment to let customers visualize products in their own environment before they buy them. This can be done by uploading 3D models of products to the Augment platform and then letting customers scan a QR code with their smartphone to see the product in AR. This method will surely help them to make better purchasing decisions without staying in any doubt.
Magicplan

Magicplan AR is an augmented reality application that allows users to create floor plans and measure spaces using their mobile devices. Incorporating the advanced AR mobile app development methodology, Magicplan uses the camera on the user's device to scan the environment and create a 3D model of the space. Users can then add measurements to the model, create notes, and export the plan to a variety of formats. This way, the job of finding space in different rooms or hallways becomes easy for the people.
Apart from general purpose usage, Magicplan is a perfect pick for architects, as it allows them to draw realistic maps based on the live output of the app. Interior designers can certainly use Magicplan AR app to visualize their designs in real time. This can help them to get feedback from clients and make changes to their designs as per the given demands.
SketchAR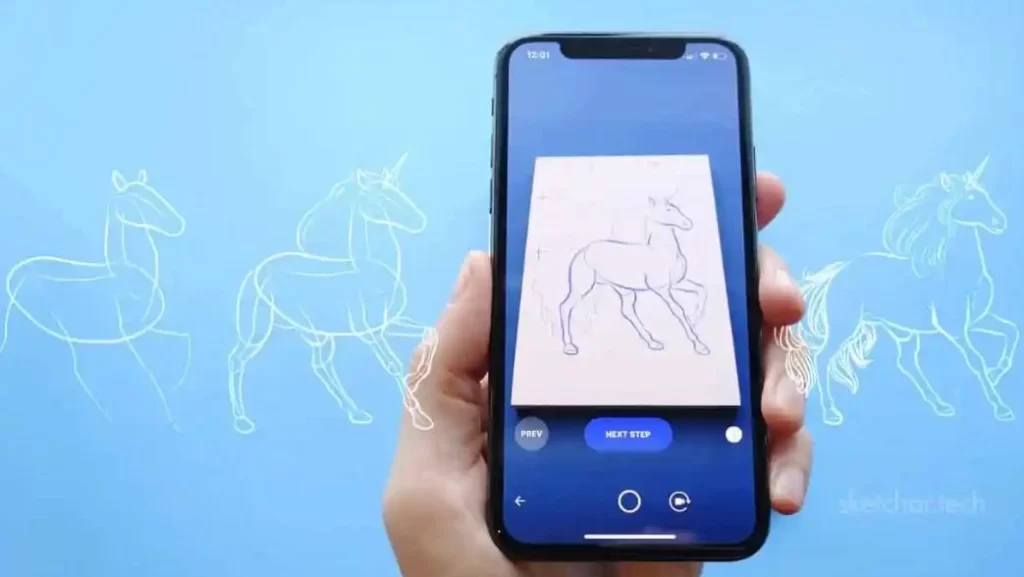 Next up, we have got the rising name of SketchAR. It is an advanced sketching application that allows users to draw on real-world surfaces using their mobile devices. SketchAR uses the camera on the user's device to track the surface they are drawing on and create a virtual canvas. The user can then draw on the virtual canvas using their fingers or a stylus. This is certainly a new way to draw sketches, as practice like this before was never seen in any other mobile application.
Talking about the technology, SketchAR uses state-of-the-art AR technology to track the surface the user is drawing on, ensuring that their drawings are accurate and aligned. This way, the chances of errors or committing mistakes becomes minimal, ensuring quality designs at the end. The app also provides different types of drawing tools, so that users can easily create sketches using their preferred pencils, brushes, etc.
ROAR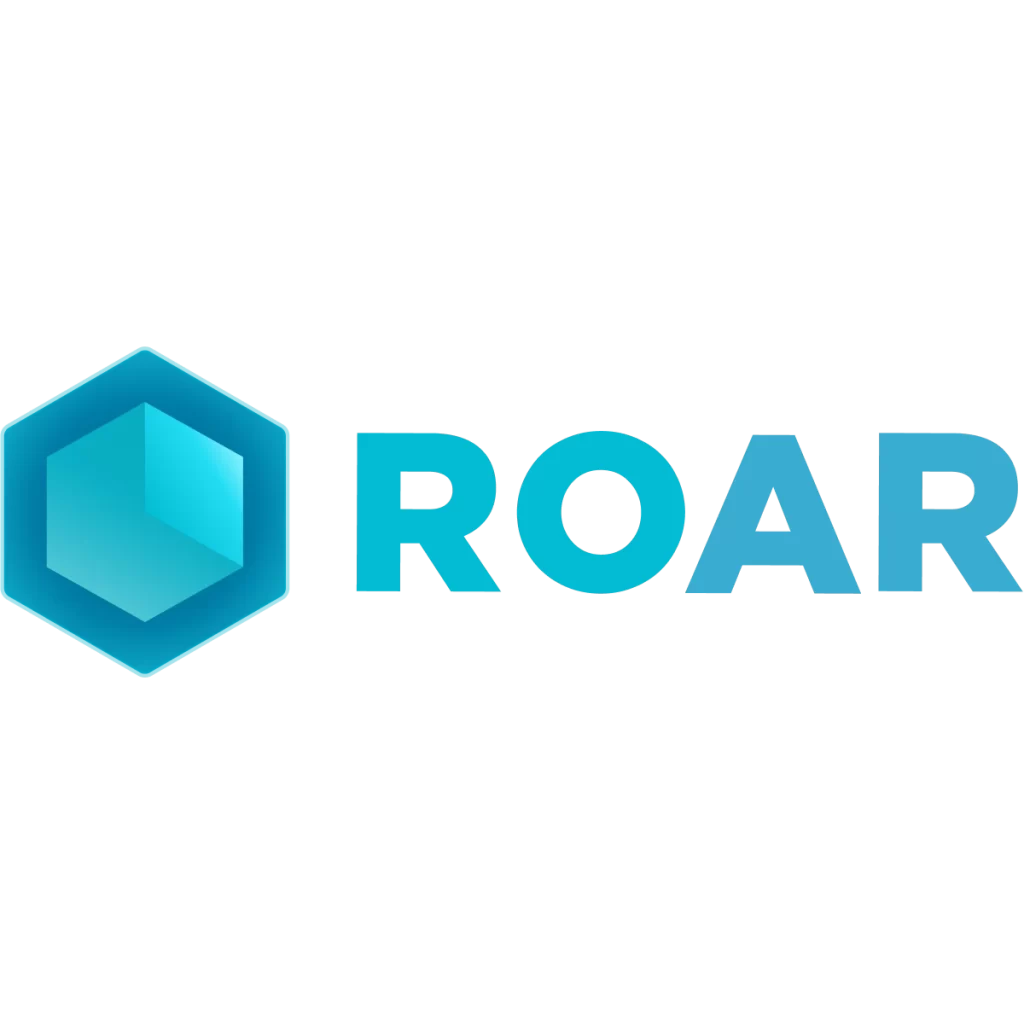 Businesses having limited knowledge about technical often face various types of difficulties while incorporating technologies like augmented reality. However, there is also a solution for them with which they can get started with AR with limited knowledge. ROAR is a powerful AR app that is precisely created for these businesses to excel in the field of augmented reality. It allows them to create and deploy AR experiences without any coding knowledge, which is indeed a big plus for them.
ROAR has a drag-and-drop editor that makes easy to create AR experiences. Businesses can create experiences that can trigger on physical markers. Besides that, ROAR also allows businesses to create/upload their own 3D models and then use them in the videos as per the needed requirements.
Frequently Asked Questions
What is an augmented reality app?
An augmented reality app helps to provide AR experience by blending real world environment with digital photos or videos. This app lets you create a virtual version of any product by taking a picture of it with your phone's camera or uploading a 3D model of the product.
What is the difference between VR and AR?
Virtual reality creates a completely immersive experience that shuts out the physical world. On the other hand, augmented reality overlays digital content onto the real world. Users view this content through a device such as a smartphone or tablet.
More Insightful Apps Based Articles:
Final Words
That takes us to the end of this blog in which we have discussed some of the best augmented reality apps you can find in the market. These applications are quite advanced and they are built to facilitate people in getting different types of AR experiences. Using them, you can create interactive experience for your customers that will help to increase your product sales dramatically.
If you are looking for a company that can help you to build quality mobile applications based on AR, get in touch with us today. We will help you to develop advanced mobile apps rightly as per the given requirements.