Table of Content
Take a Look at the Important Details of Cloud Computing in Accounting Below

The evolution of cloud computing has brought advancements for many companies. It is a ground-breaking technology not just for the IT sector, but for other industries as well. Companies from diverse sectors can take good benefits from cloud computing, as it offers amazing perks for everyone. The rising impact of cloud computing in accounting sector is a perfect example of this case. It has given accounting companies a fresh perspective to automate different tasks that often takes a lot of time. This is where they are simplifying the operations, so that multiple accounting jobs can be executed simultaneously.
Generally, the accounting companies use conventional tools to manage their day-to-day jobs. This not only takes a lot of time, but also requires plenty of hard efforts. Meanwhile, a strong focus and attention is also required to execute every job perfectly. Sometimes, companies even engage a large set of resources in the execution of a single job. They do this because some tasks are very critical, and they can't be done easily by just engaging simple resources. This is where the speed of outcome becomes slow, hampering the overall performance of the accounting team.
However, by using cloud services in accounting, things can become hugely simplified. It is the technology that emphasizes on bringing automation, so that all types of tasks can be easily simplified. Some people still do not know how cloud computing in accounting works. For these starters, this article would prove to be a good read. It will let them know about the utilities of cloud computing in accounting, as how it can be used to streamline different tasks effortlessly.
But, before moving straight into that, let us first start from the basics understanding why cloud computing is becoming popular in the world. Let's take a look why this technology is creating a strong impact across diverse industries globally.
What is Cloud Computing?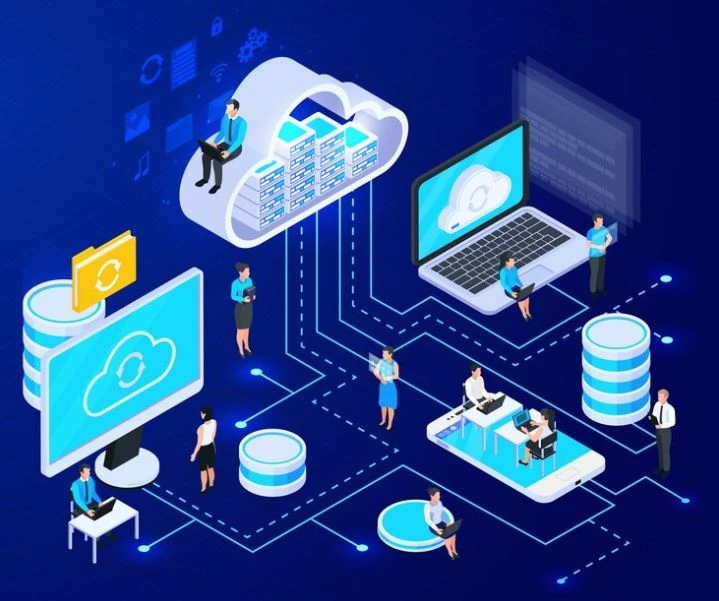 Before delving deep into cloud accounting, let us first understand the basics of parent technology i.e. cloud computing. Putting in simple words, cloud computing is the process through which computing services are delivered to the clients over the internet. It takes assistance of different components to deliver those services such as servers, storage databases, networking, software products and more others. By combining them, a unified infrastructure is built that helps companies to offer cloud computing services efficiently.
One of the main features of cloud computing is that it enables users to pay only for the resources they use, rather than paying for fixed or upfront costs. This is known as the pay-as-you-go model, which allows users to adjust their usage according to their needs and demands. It is a model that separates cloud services from other technologies, as users find great convenience in it while using different services. It also provides them an opportunity to scale up or down the resources, so that everything remains flexible and within their reach.
Another feature of cloud computing is that it provides strong DevOps implementation plan and access to a variety of services and applications that are hosted and managed by cloud providers. These services and applications can range from basic web hosting and email to advanced artificial intelligence and machine learning. It provides users an option to choose from different types of cloud models, such as public, private, hybrid, or multi-cloud to host their applications easily on the web.
Understanding Cloud Accounting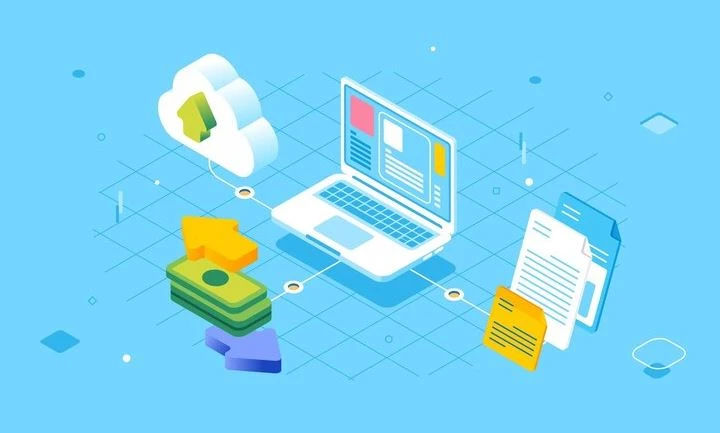 Cloud accounting is a contemporary approach to financial management that leverages web-based software and services to handle various accounting functions. Unlike traditional accounting systems that are confined to a desktop environment, cloud accounting operates on remote servers accessible through the internet.
This online accessibility enables users to manage their financial data from anywhere with an internet connection, fostering collaboration among team members regardless of geographic locations. This adaptability is particularly advantageous for businesses with distributed teams, facilitating real-time access to financial information and promoting seamless collaboration in a dynamic and interconnected world.
One key feature of cloud accounting is its emphasis on data security. Reputable cloud accounting providers implement robust security measures to safeguard sensitive financial information. Encryption, secure login credentials, and regular data backups contribute to creating a secure environment for users, instilling confidence in the integrity and confidentiality of financial data.
As a result, businesses can entrust their financial information to cloud-based systems with the assurance that industry-standard security protocols are in place to protect against unauthorized access and potential data breaches.
Future-Proof Your Business with

Cloud Migration & Integration
Seamlessly transition to the cloud and integrate your systems for enhanced efficiency and scalability. Get smooth transition, allowing your business to leverage the power of cloud technology with our comprehensive cloud migration and integration services.
Transform with Cloud Solutions
Working Procedure of Cloud Accounting
Cloud-based accounting utilizes secure web-based software to streamline business processes. Using cloud technology, startups and SMBs can conveniently access crucial data from any location, facilitating collaboration and simplifying financial reporting. This is one of the key applications that makes cloud technology a top priority of every organization.
Talking about the convenience of end-users, everyone can connect to the software applications through the internet or other networks via a cloud application service provider. This eliminates the need for individual desktop setups with software, as all company members can access the cloud on their respective devices. Whether it's finance teams or accounts receivable, remote teams or branches can seamlessly reach the same essential data and financial records. The unified access ensures time and cost savings by keeping everyone on the same page.
In addition to efficiency, cloud accounting prioritizes data security, with features like data backup and disaster recovery integrated into your account. This is how the tension of data security gets completely eradicated, enabling you to focus more on the execution of different things. You can access this data from anytime from anywhere to manage different types of accounting tasks easily.
Benefits of Cloud Accounting Software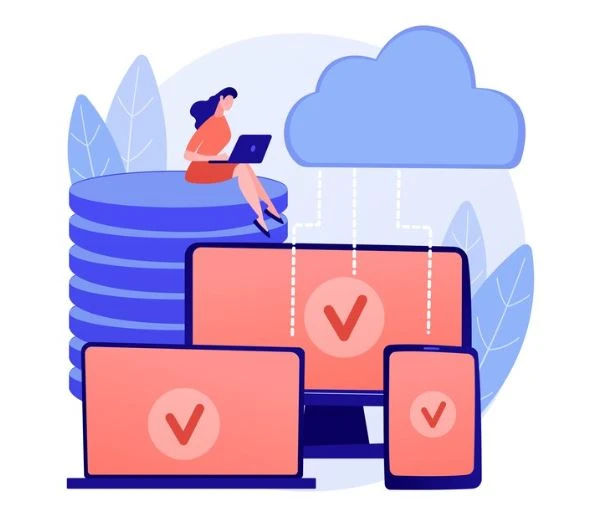 There are several benefits of using cloud accounting software. It not only offers ease of calculation, but also provides great leverage to access and manage data from anywhere. Unfortunately, many people do not know about these advantages, as most of them are still using conventional products/practices to manage different types of accounting jobs.
If you are also one of those who do not know how cloud accounting is simplifying work automation, take a look at the advantages defined below.
Ease of Data Access
Talking about the major benefits of cloud technology, it allows you to access data from any location at any time. This means that you don't have to be in the office every day to work with the required data. The cloud servers are active 24/7, and you can access them from any location without bothering about security or any other thing. This is what makes cloud accounting very interesting, as it does not limit you to be at any particular place.
Since the cloud servers are hosted remotely, the hassles associated with downloads and updates that accompany traditional software are eliminated precisely. Additionally, a software provider may provide a mobile app, simplifying access to your financial information while you're on the move. This setup provides the flexibility to manage your accounts and monitor cash flow without being confined to your office.
Updated View of the Data
With cloud technology, you always get the live feed of updated data. It allows you to access the data in real-time, so that you can make informative decisions quickly. It cuts down the chances of committing mistakes, unless you are too bad at evaluating the given data. Moreover, this data is presented in an organized manner, so that you can easily understand everything. This facilitates making well-informed decisions regarding the financial trajectory of your business.
In contrast to the traditional approach to accounting, where one would need to sift through numerous pages for accounting data reports, cloud accounting allows you to efficiently meet the demands of a rapidly expanding business by accessing real-time financial data as required. This is what makes cloud accounting special, as well as highly important for many companies that regularly deal with different data management challenges.
Collaborate Easily with Everyone
Another benefit that stands out for cloud accounting is that it provides ease of collaboration. We all know pretty well that jobs like accounting requires close communication and collaboration with the teammates. If you are working with them closely, then you could miss different details while preparing any sheet or record of the finances. This is one of those areas where cloud accounting has done a good job, as it provides seamless collaboration between the teams through cloud.
Many companies use online accounting program these days to access cloud data easily. These web applications are built smartly, as they can allot access to particular people based on the needed requirements. They can give specific feature access to particular teams, so that everyone can collaborate and work effectively as per their given roles.
Improves Work Accuracy
Accounting is one of those jobs that requires proper analysis and accuracy all the time. Being an accountant, you should never miss even a little detail when creating spreadsheets or reports. Unfortunately, many people struggle in this area, as they usually work with conventional tools that does not offer precised accuracy at the work. This is where cloud accounting becomes helpful for them, as it provides stunning accuracy and precision while handling all types of tasks.
When working with cloud products, the chances of having errors in the work becomes relatively lower. The cloud accounting tools are basically developed with perfection, so you can always rely on them to get quality results. They offer various types of features to manage different tasks, in fact, some cloud products are also built as per the custom client demands.
Continuous Tech Support
Another major area that makes cloud accounting services remarkable is the presence of dedicated tech support. You can find answers related to any query by contacting support team anytime. They are available round the clock 24/7 to help you on different types of issues. From setting up account to inquiring about the core platform features, you can ask them anything that is not cleared in your mind or making you confused to take particular decisions.
Generally, tech support is available through chat, but if you want to discuss something personally, you can also contact them via phone. The latter support mode is available for a particular time, however, chat support is available round the clock.
Zero Installation
Cloud accounting products also does not require any type of installation. They are basically hosted on cloud servers, which means that anybody can access them using the subscription given by the respective company. This is a great advantage as it completely rules out the hassle of installing physical machines. It does not bothers anyone to manage something physically, as all the data and applications are available on cloud servers.
However, it should be noted that accessing resources from the cloud depends on the internet speed. If your service provider has some issues, then you could face some sort of problems. It is not a big issue, but still an important one that needs to looked upon carefully.
Best Cloud Accounting Software Systems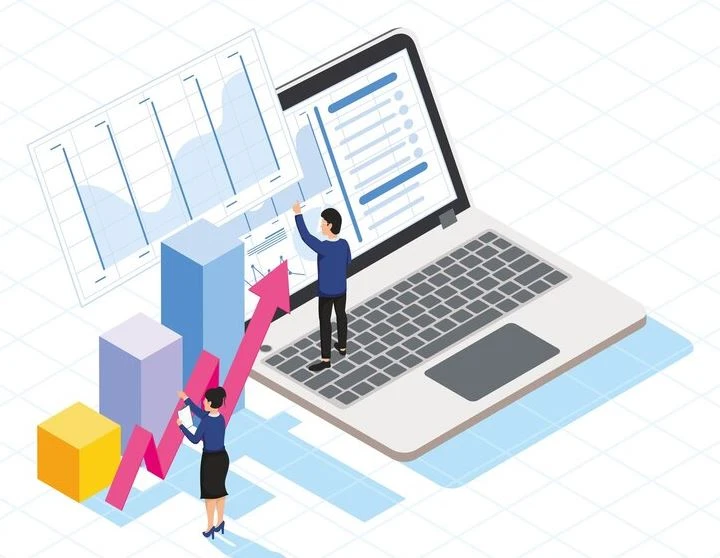 Today, there are plenty of cloud accounting software systems available in the market. Each of them offers different types of functionalities, allowing businesses to perform various types of accounting jobs with ease. If you do not know much about them, take a look at the names defined below.
QuickBooks
QuickBooks is one of the leading cloud accounting products that helps small and medium-sized businesses in the management of accounting, payroll, invoicing, taxes, and other finance related tasks. It allows users to track and monitor different reports, so that they can take quick informative decisions in real-time.
NetSuite ERP
NetSuite ERP is a cloud-based business management software that integrates and automates various functions such as accounting, order processing, inventory management, supply chain and ecommerce. NetSuite ERP helps organizations to streamline their operations, improve their visibility and control, and make smarter decisions faster.
Zoho Books
Zoho Books is yet another a top product that provides businesses a great opportunity to conduct all types of accounting jobs with ease. By using Zoho Books, users can easily automate their workflows, track expenses, and generate insightful reports on the go. It can be also integrated with other Zoho products and third-party mobile app development tools to provide a seamless data management experience.
FreshBooks
FreshBooks is also a popular product that allow finance teams to easily perform different types of jobs including invoicing, time tracking, report generation and more others. The platform also allows users to accept online payments and collaborate with other team members easily. All of these features make FreshBooks a top software for cloud accounting.
Read Next In Line:
Final Words
That takes us to the end of this blog in which we have discussed about the rising trend of cloud computing in accounting. It is indeed a new concept that is revolutionizing the industry of accounting. With cloud technology, you get to expect speed, as well as fast performance in each and every process. Its integration with accounting products is therefore seen as a good breakthrough to make things further streamlined. In this blog, we have defined the overall concept of this fast rising trend, detailing how the name of cloud accounting is quickly getting popular in the market.
Meanwhile, if you are looking for a company that can help you to develop an advanced accounting software application, give us a quick call today. We will help you to develop cutting-edge cloud accounting products, precisely as per the given requirements.